WOMEN'S EMPOWERMENT
Granted by the Financial Regulatory Department (FRD) of Ministry of Finance in 2013, Brighter Future Myanmar Foundation is providing microfinance loans, financial literacy programs to over 16,125 women in Helgu, Tike Gyi ,Oak Kan in Yangon Region and Tharyar Waddy in Bago Division.
51% of the population in Myanmar is women. Many are gifted in skills and entrepreneurial talent, but lack the credit or financial history required to apply for loans. The women often have limited opportunity to pursue higher education and develop new employable skills. Access to health services are also limited, profoundly impacting their quality of life.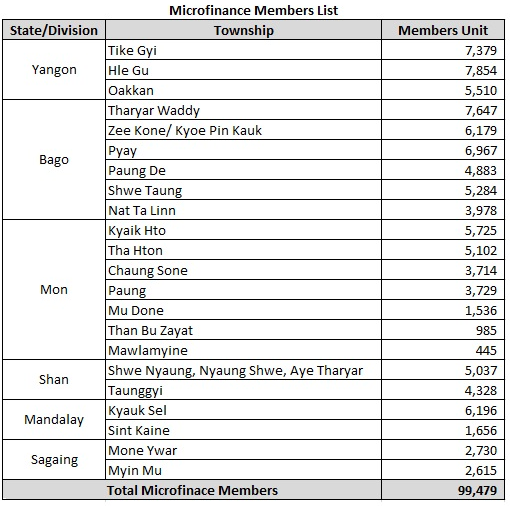 In 2013, Brighter Future Myanmar Foundation received the authorization from the Ministry of Planning and Finance to begin a not-for-profit microfinance and financial literacy programme to help women kick start and grow their small businesses. BFM partnered with KBZ Bank, recruiting experts in financial services to run workshops in Hlegu, Taikkyi, and Okkan townships. These workshops have trained over 360 groups of women and entrepreneurs in accounting practices and strategies to grow their business.
Since then, BFM has expanded its efforts to include vocational training in tailoring and computing, equipping women with new employable skills and to start their own business. The foundation has partnered with Shwe Gone Dine Women Hospital to conduct health workshops for women, provide them with basic healthcare support, and supply Hep-B vaccinations for healthier communities.
As of September 2019, BFM has financed the businesses of 99,479 women in 24 townships across the country.
Social Media
Contact With Us: