Water Project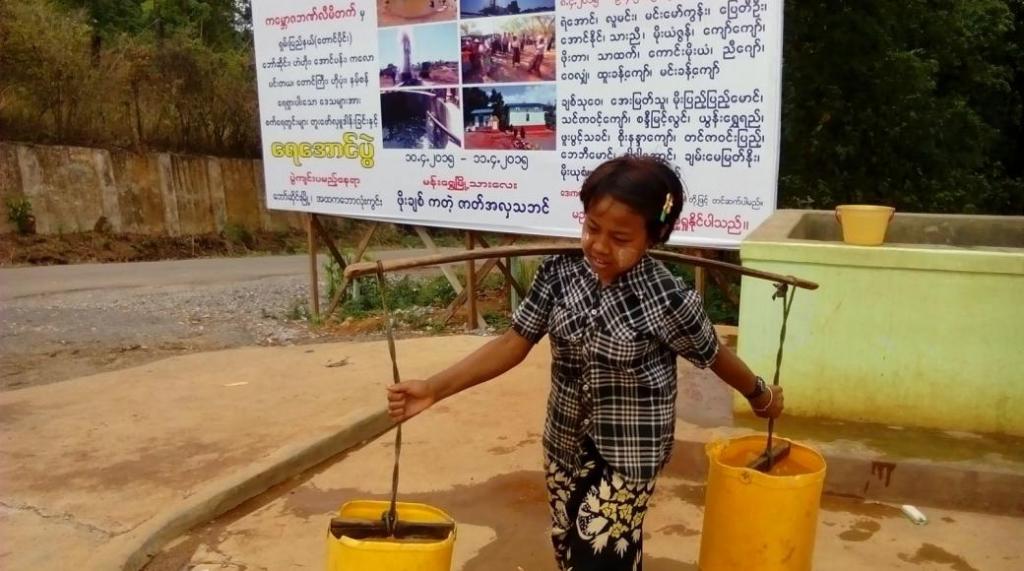 Water Supply Project
The Water Project is a personal mission of U Aung Ko Win, the Chairman of the KBZ Bank and honorary chairman of KBZ Brighter Future Myanmar Foundation to improve the living standards and help alleviate poverty in the underdeveloped areas of the Southern Shan State where he grew up. It also promotes the efforts of His Excellency the former President U Thein Sein in his third wave of economic and social reforms in Myanmar by developing the agricultural sector of the country and improving the health and livelihoods of the people. With US 7.2 million investments from KBZ Bank, KBZ Brighter Future Myanmar Foundation (BFM) is spearheading the Water Project in the areas of southern and northern Shan Stat, Kayah State, Manadalay Division and Naypitaw.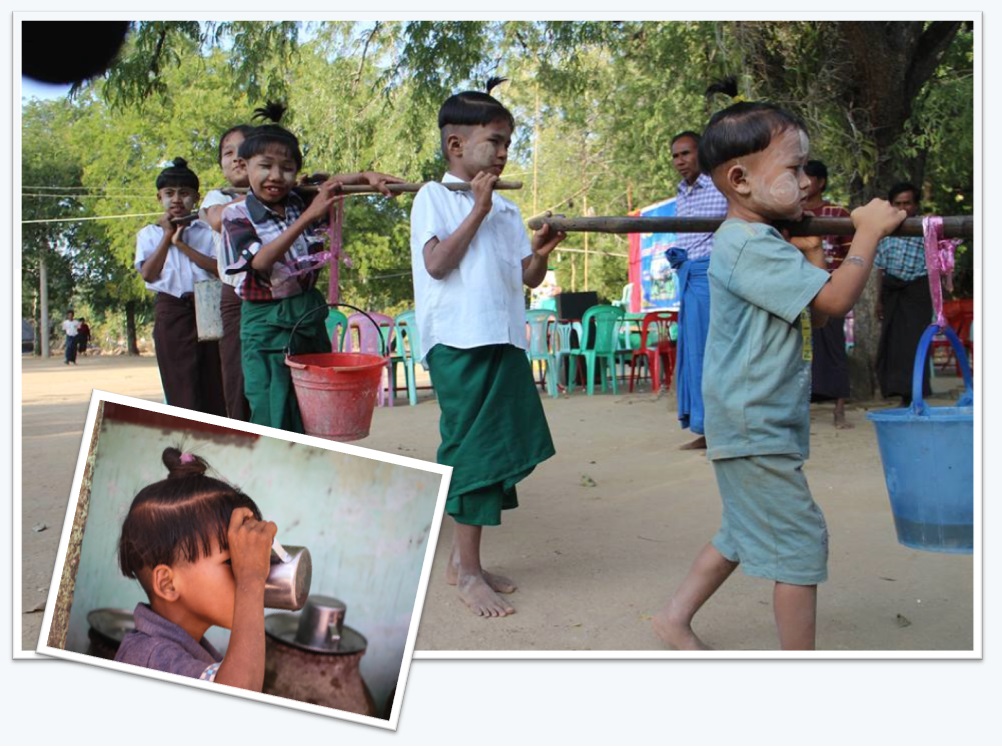 During the 2013-2014 summers, residents in the regions of the Southern Shan State suffered from severe drought. They were solely relying on rainwater and ponds two-hours away from their homes for domestic and agricultural use. Therefore, the drought was a huge threat to the livelihoods of this crop-producing state and to the nation. Agricultural sector in Myanmar accounts for 60 percent of the GDP. The majority of the crops such as onion, bean, tealeaf, and others for domestic consumption and export originate from the Southern Shan State. Before the launch of the water project in March 2014, KBZ Brighter Future Myanmar Foundation donated 5,000 gallons of drinking water every day to the drought-affected areas. Despite such an effort, each household received only five gallons of water a day. It immediately ignited a strong desire in the hearts of the KBZ family to commence the Water Project with the hope of making water accessible and sustainable for everyone in generations to come. The Water is operating throughout the country via three categories such as drilling tube wells, reconstructing lakes and distributing water by BFM water bowsers in remote areas.
Despite geophysical challenges, BFM had successfully constructed 75 tube wells equipped with diesel generators for 24 hours per day access to water. BFM tube wells are providing fresh drinking water for approximately over 138,968 people via 262 water taps and 96 water tanks across towns and cities in the regions of Shan State and Kayah State, Mandalay Division and Naypyitaw. Fresh drinking water is now easily and widely available at 49 schools, 11 hospitals, 60 monasteries, 12 fire brigade stations, 75 villages by the well-connected pipe network for Danu, Toung Yoe, Pa-O, Shan, Bamar, Yin, Lee Zuu, Ah Kah, Ka Yan, Ka Yah and Rakhine people living in the project areas. BFM water distribution system is designed far and wide to provide fresh drinking water to everyone; from the monks and nuns in the hills to children at schools in the middle of the village, from a fire brigade station to a hospital and from a household to another household.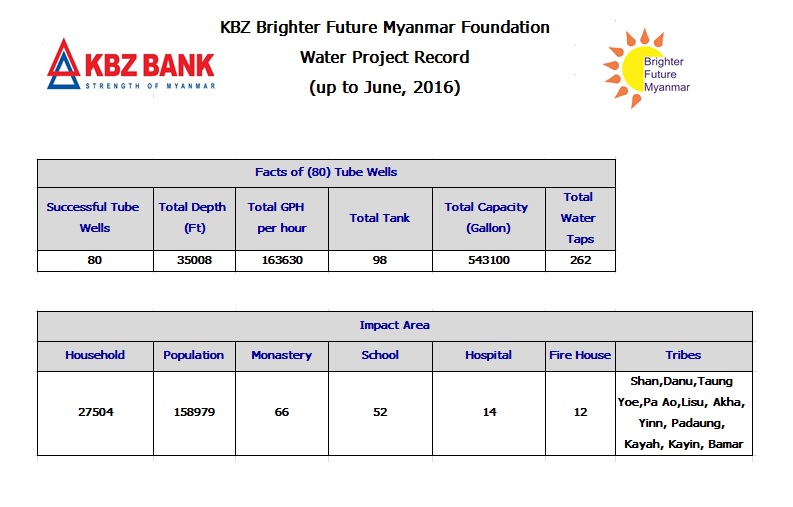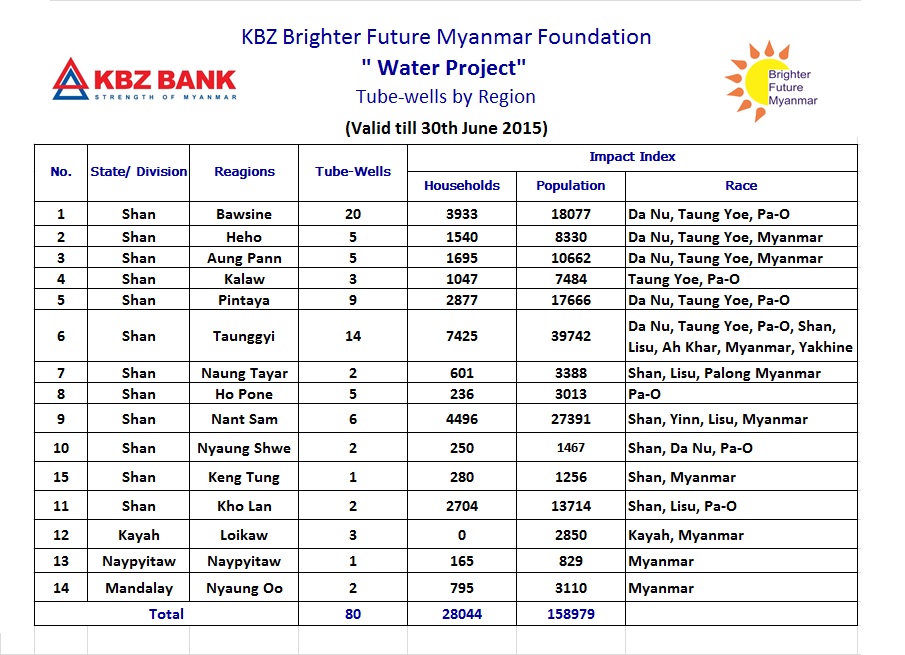 Quantative Observation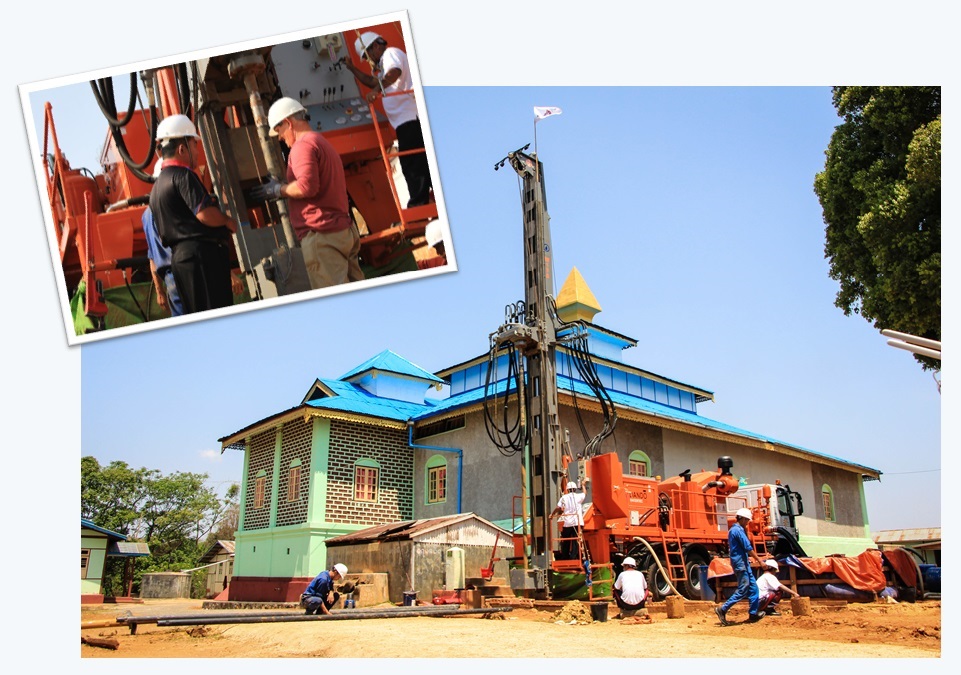 In addition to 6 drilling machines borrowed from the Water Resources Utilization Department (WRUD), KBZ Bank had purchased a new drilling machine from England to achieve more positive outcomes and to drill more tube wells in Shan State where it is almost impossible to find water sources hidden under layers of impenetrable lines of rocks, limestone, silt, clay, minerals and caves.
To scale up the operation, BFM had formed partnerships with local non-profit organizations such as the Kyaw Thu Parahita Network and the Eleven Media Group. Partnered with these NGOs, BFM increased its capacity whilst extending its project scope to extremely dried areas in Central Myanmar. KBZ Bank via its foundation commissioned the Kyaw Thu Parahita Network to drill 22 additional tube wells in Yangon, Bago, Mandalay and Magwe divisions.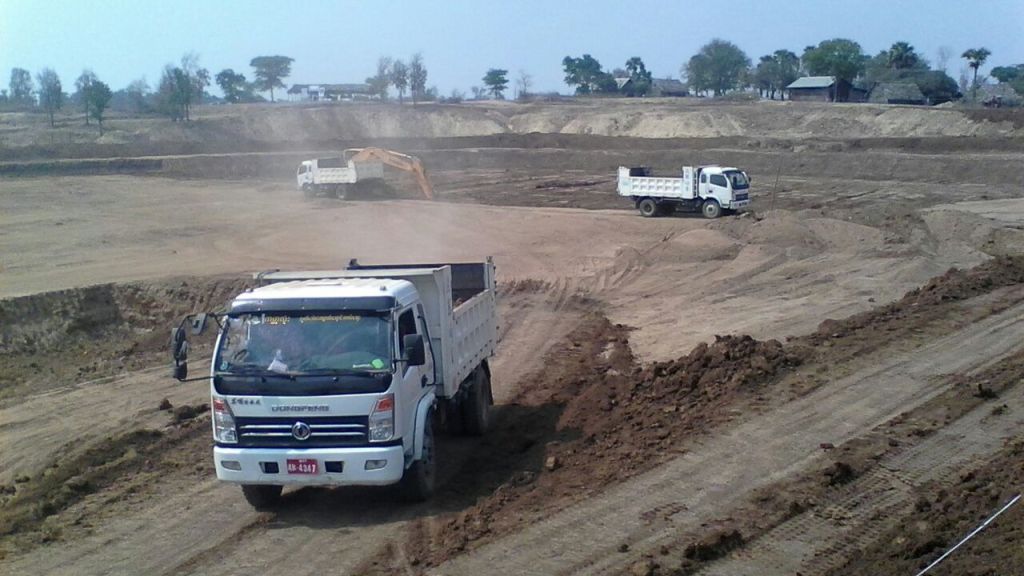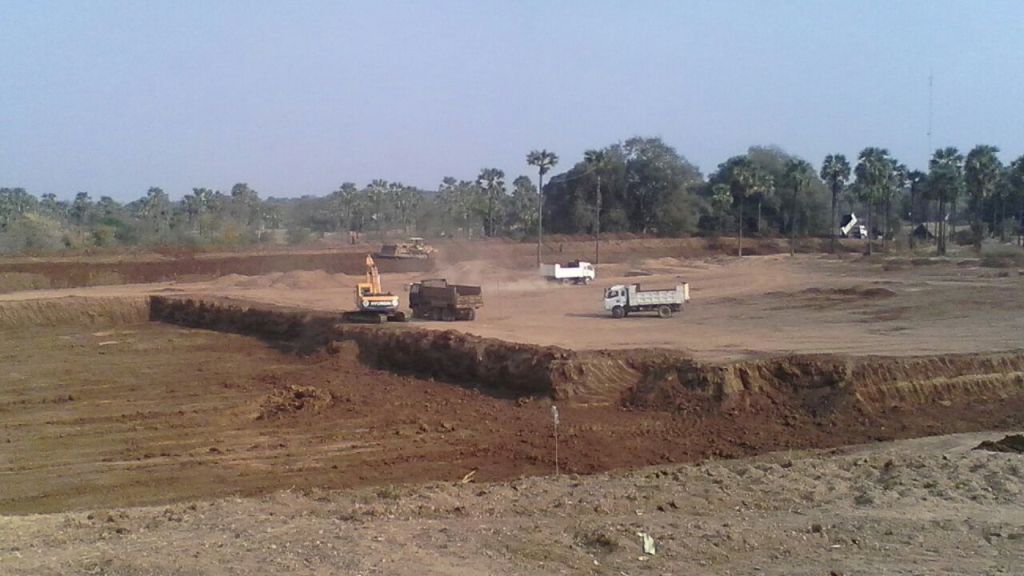 In order to optimize the water distribution project and to alleviate the overdue need for water in Nyaung Oo District, Mandalay Division, BFM is repairing Ma Gyee Shwe Guu Lake. After completion, the lake will be able to store 14 million gallons of water and supply water to 5 villages near by. BFM had repaired 5 lakes and 2 dams in total.

Draught season came early to Myanmar this year due to the effects of El nino weather. Prompted by the high demands for water in Central Myanmar, KBZ Bank via BFM will distribute drinking water via brand new 43 water bowsers in the draught affected areas.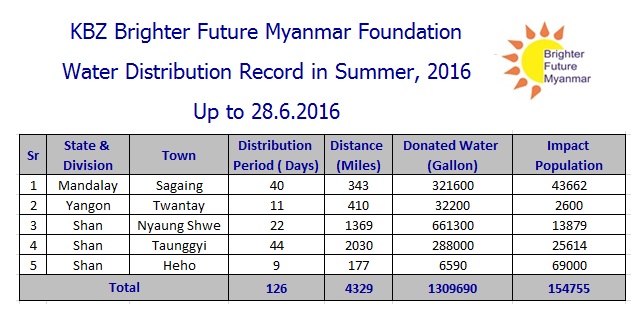 Each water bowser has the capacity of carrying up to 3000 gallons of water approximately for 300 households. KBZ Bank mangers monitor the bowsers in respective cities to arrange the deliveries to the project areas.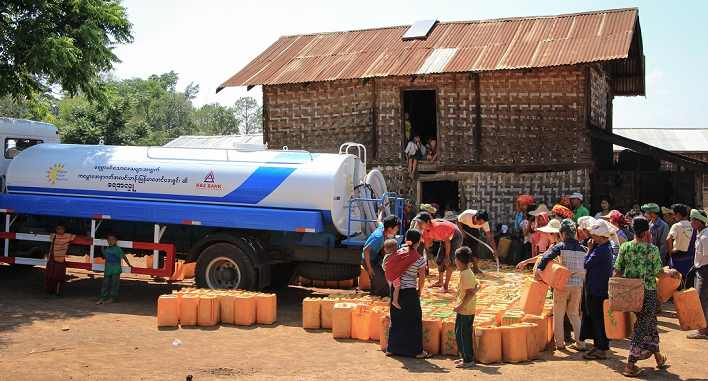 Since March, BFM had currently distributed 1,309,690 gallons of drinking water for 154,755 people in Heho, Taungyi, Sagaing, Naung Shwe and Toon Tae by utilizing 5 water bowsers. As This methodology is just a means to an end before the foundation begins drilling tube wells in these areas.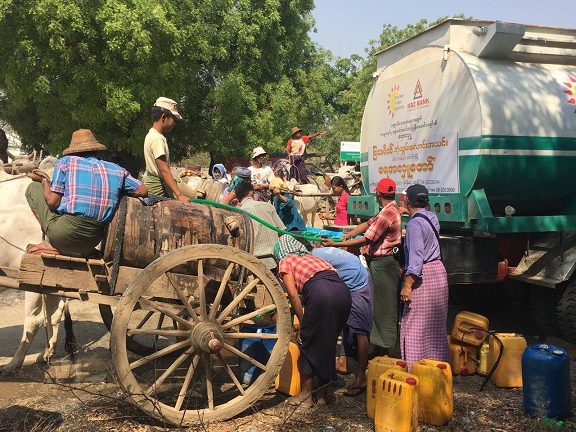 Qualitative Observation
KBZ's CSR initiatives are formulated with achievable objectives in mind to support the community on a long-term basis. The impact of the Water Project can be evaluated quantitatively but it will not do justice to the people's improved living condition brought about by the project; for instance, a student in Bawsine can now spend many more hours studying each day, because he or she can easily fetch water from a near-by KBZ water tap, instead of making a two-hour one way trip to a pond. According to a health worker, women used to suffer from urinary tract infections because of the dirty water they were using and they did not have clean water to shower after giving birth. This Water Project is continually eliminating these preventable diseases throughout the Southern Shan State.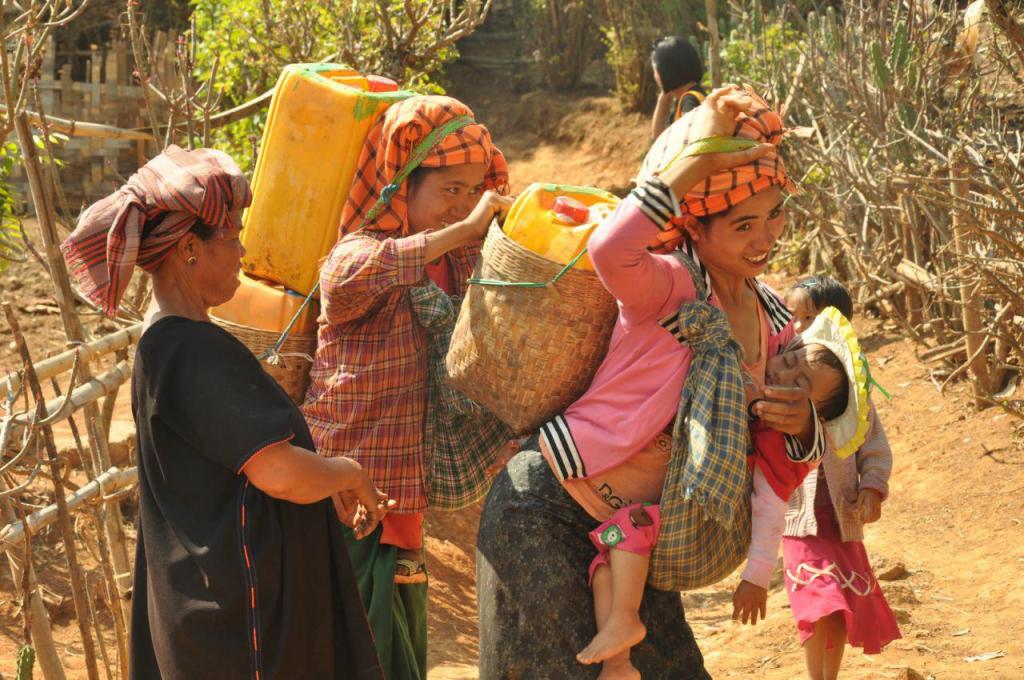 Recognitions and Awards
KBZ Brighter Future Myanmar Foundation received Euromoney Achievement Award for CSR 2015 on September 15th for its life-changing Water Project and its broader commitments.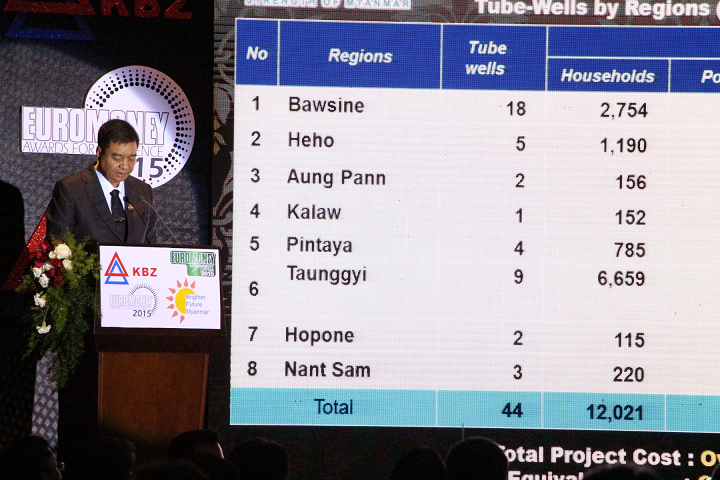 KBZ Brighter Future Myanmar Foundation is the only foundation in Asia and one among the ten institutions in the world to receive the award.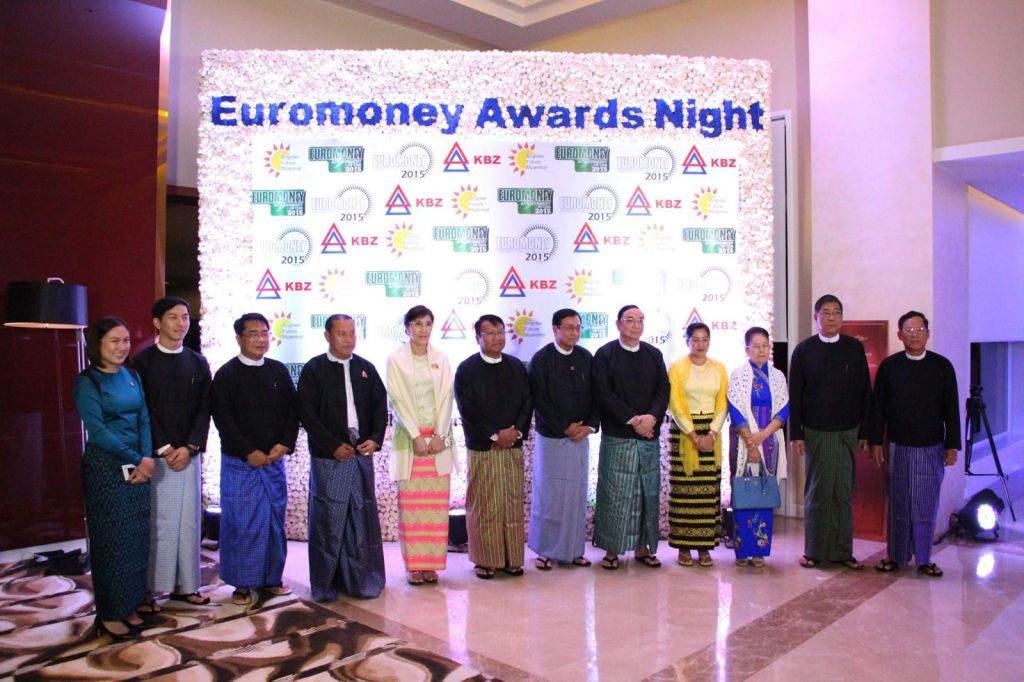 Address
No. 615/1, Pyay Road, Kamaryut Township Yangon, Myanmar.
Phone / Fax
(+95) 01-513849
E-mail
Social Media
Contact With Us: