U AUNG KO WIN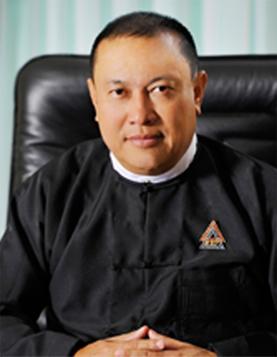 HONORARY CHAIRMAN
As one of Myanmar's most successful entrepreneurs, U Aung Ko Win's achievements include steering the management of Kanbawza Bank in 1994 into the developement of the largest commercial bank in the country.
He also founded the Kanbawza Group of Companies, which is now one of Myanmar's leading conglomerates with over 80,000 employees. The KBZ Group's core principal is centred on strengthening Myanmar and its people.
He is the Patron (Honorary Chairman) of:
Union    of    Myanmar    Federation    of    Chambers    of     Commerce and Industry (UMFCCI)
Myanmar    Gems    and    Jewellery    Entrepreneurs     Association
Myanmar    Football    Federation
Border    Areas    Development    Association
Anti-Narcotics    Association    (Shan    State)
Myanmar    –    Japan    Association
U Aung Ko Win is also a Member of The World Economic Forum.
Address
No. 615/1, Pyay Road, Kamaryut Township Yangon, Myanmar.
Phone / Fax
(+95) 01-513849
E-mail
Social Media
Contact With Us: